Shows
Making a Scene Workshop Series
**PLEASE NOTE TICKET SALES FOR THIS EVENT HAVE BEEN SUSPENDED AS OF 16 NOV DUE TO COVID-19 RESTRICTIONS**

Making bold choices in scenes and trusting your scene partner to jump with you can be nerve-wracking. But that doesn't mean you shouldn't jump!
Over six weeks, we'll explore some of the key concepts in making strong improvised scenes, including being willing to fail, finding the game, emotion and narrative. Mastering these will help you enjoy the freefall in a scene, and really and truly play in the moment with your scene partners. Come play!
Buy all classes upfront online to receive a guaranteed place, plus a bulk discount. If not sold out, tickets for individual weeks will become available closer to the date.
***KEY DETAILS***
Date: Wednesdays, 6:30pm, 14 October - 25 November (excluding 4 Nov).
Venue: The Joinery, 111 Franklin Street Adelaide
Pre-requisites: Completed Intro To Impro with On the Fly or a similar organisation.
Dress Code: Casual and comfy
Cost: $12 full price/ $7 concession per class (or $10 full price/$5 concession for members of On the Fly). Buy all classes upfront online to receive a guaranteed place, plus a bulk discount (select Full Term ticket).


*** COVID-19 POLICIES ***
Due to government restrictions and to help everyone feel safe, there will be a few changes to the way our workshops usually run. These workshops will:
- Be discounted to help everyone get back into improv after the pandemic!
- Have strict limits to the number of participants in each workshop
- Accept online-bookings only (no door sales).
If you are feeling sick, do NOT attend.
You are also asked not to touch anyone during the workshop, practice physical distancing and maintain good hand hygiene.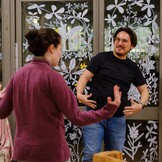 This event has completely sold out!